Dodge Durango

Service Manual

Brakes » Rear wheel antilock brakes » Removal and installation

Rear wheel speed sensor
REMOVAL
(1) Raise vehicle on hoist.
(2) Remove brake line mounting nut and remove the brake line from the sensor stud.
(3) Remove mounting stud from the sensor and shield (Fig. 9).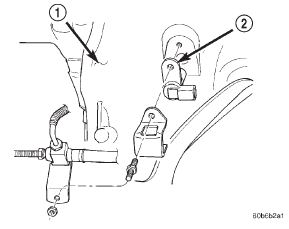 Fig. 9 Rear Speed Sensor Mounting
1 - DIFFERENTIAL HOUSING
2 - WHEEL SPEED SENSOR
(4) Remove sensor and shield from differential housing.
(5) Disconnect sensor wire harness and remove sensor.
INSTALLATION
(1) Connect harness to sensor. Be sure seal is securely in place between sensor and wiring connector.
(2) Install O-ring on sensor (if removed).
(3) Insert sensor in differential housing.
(4) Install sensor shield.
(5) Install the sensor mounting stud and tighten to 24 N*m (200 in. lbs.).
(6) Install the brake line on the sensor stud and install the nut.
(7) Lower vehicle.
Exciter ring
The exciter ring is mounted on the differential case. If the ring is damaged refer to Group 3 Differential and Driveline for service procedures.
Specifications
Torque chart
DESCRIPTION TORQUE
Controller
Mounting Screws . . . . . . . . . . 6 N*m (53 in. lbs.)
RWAL Valve
Mounting Bolt . . . . . . . 20-27 N*m (15-20 ft. lbs.)
Brake Line Fittings . . . . . . . 19 N*m (170 in. lbs.)
Wheel Speed Sensor
Mounting Bolt . . . . . . . . . . . 24 N*m (200 in. lbs.)
More about «Removal and installation»:
Rear wheel speed sensor