Dodge Durango

Service Manual

Transmission and Transfer Case » Disassembly and assembly

Rear servo piston
DISASSEMBLY
(1) Remove small snap ring and remove plug and spring from servo piston (Fig. 195).
(2) Remove and discard servo piston seal ring.
ASSEMBLY
(1) Lubricate piston and guide seals with petroleum jelly. Lubricate other servo parts with Mopart ATF Plus 3, Type 7176, transmission fluid.
(2) Install new seal ring on servo piston.
(3) Assemble piston, plug, spring and new snap ring.
(4) Lubricate piston seal lip with petroleum jelly.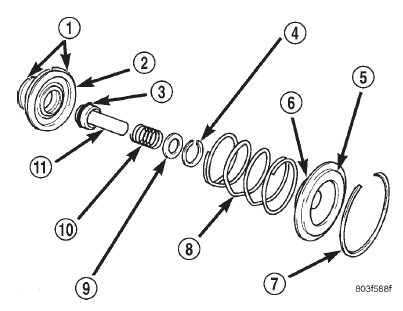 Fig. 194 Front Servo
1 - PISTON RINGS
2 - SERVO PISTON
3 - O-RING
4 - SNAP RING
5 - PISTON ROD GUIDE
6 - SEAL RING
7 - SNAP RING
8 - SERVO SPRING
9 - WASHER
10 - SPRING
11 - PISTON ROD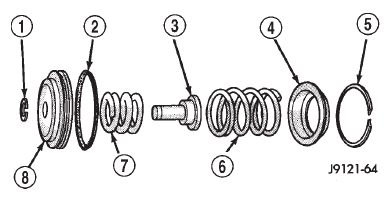 Fig. 195 Rear Servo Components
1 - SNAP RING
2 - PISTON SEAL
3 - PISTON PLUG
4 - SPRING RETAINER
5 - SNAP RING
6 - PISTON SPRING
7 - CUSHION SPRING
8 - PISTON
More about «Disassembly and assembly»:
Rear servo piston