Dodge Durango

Owners Manual

Understanding the features of your vehicle » Storage

Rear Full Center Console - If Equipped
The rear full center console contains both an upper and a lower storage area.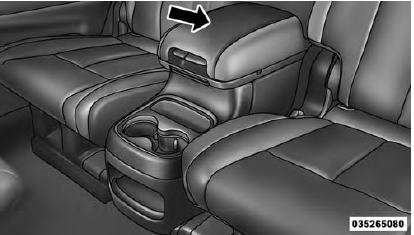 Storage Compartment
To open the upper storage compartment, pull upward on the small latch located on the front of the lid.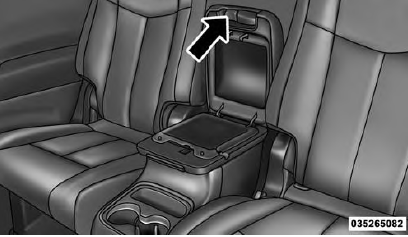 Upper Storage Compartment
Lift upward on the larger of the latches to access the lower storage compartment.
NOTE: Lower storage compartment light is always on with ignition in the ON/RUN position.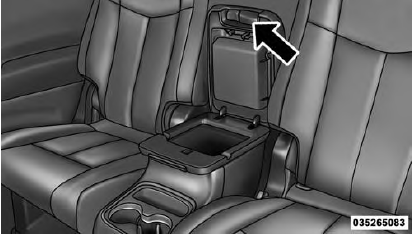 Lower Storage Compartment
The upper storage compartment may also be lifted forward.
Push in the release button located on the back of the lid.
CAUTION! Remove any items stored in the console cupholders or devices with cords routing through upper storage area. Damage may occur to upper console lid and device cables when upper storage compartment is lifted forward.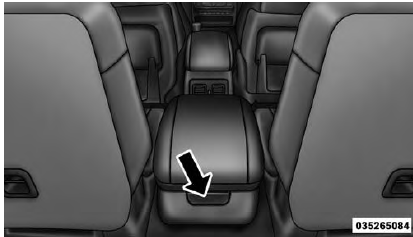 Storage Compartment Rear Push Button
When lifted forward there is access to the lower storage compartment.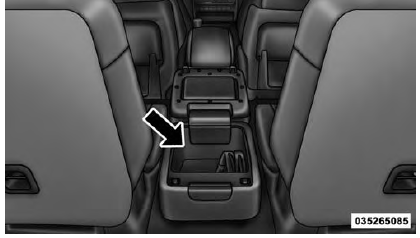 Lower Storage Compartment
NOTE: When the lower storage compartment is accessed it allows the armrest to flip forward for "fold flat mode". Fold flat mode allows the console armrest to be lowered below fold flat seat plane and protect the armrest vinyl from damage when using the vehicle to haul cargo.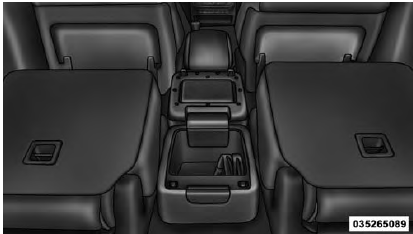 Fold Flat Mode
Open storage areas, or cubby bins with removable liners, are located rearward of the cupholders and in the lower front of the console.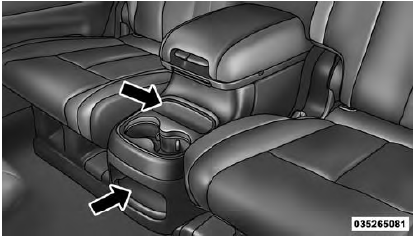 Console Cubby Bins
More about «Storage»:
Rear Full Center Console - If Equipped