Dodge Durango

Service Manual

Brakes » Base brake system » Removal and installation

Rear brake shoes
REMOVAL
(1) Raise and support vehicle.
(2) Remove wheel and tire assembly.
(3) Remove clip nuts securing brake drum to wheel studs.
(4) Remove drum. If drum is difficult to remove, remove rear plug from access hole in support plate.
Back-off self adjusting by inserting a thin screwdriver into access hole and push lever away from adjuster screw star wheel. Then insert an adjuster tool into brake adjusting hole rotate adjuster star wheel to retract brake shoes.
(5) Vacuum brake components to remove brake lining dust.
(6) Remove shoe return springs with brake spring plier tool (Fig. 30).
(7) Remove adjuster cable. Slide cable eye off anchor pin. Then unhook and remove cable from adjuster lever.
(8) Remove cable guide from secondary shoe and anchor plate from anchor pin.
(9) Remove adjuster lever. Disengage lever from spring by sliding lever forward to clear pivot and work lever out from under spring.
(10) Remove adjuster lever spring from pivot.
(11) Disengage and remove shoe spring from brake shoes.
(12) Disengage and remove adjuster screw assembly from brake shoes.
(13) Remove brake shoe retainers, springs (Fig.
31).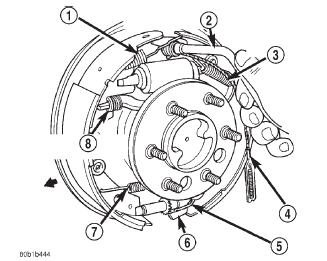 Fig. 30 Shoe Return Springs
1 - SHOE RETURN SPRING
2 - SPECIAL TOOL (REMOVING AND INSTALLING)
3 - SHOE RETURN SPRING
4 - ADJUSTER CABLE
5 - LEVER SPRING
6 - ADJUSTER LEVER
7 - SHOE TO SHOE SPRING
8 - ANTI-RATTLE SPRING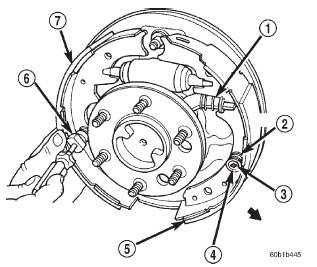 Fig. 31 Shoe Retainers, Springs and Pins
1 - STRUT AND SPRING
2 - SPRING
3 - PIN
4 - RETAINER
5 - PRIMARY SHOE AND LINING
6 - TOOL C-4070
7 - SECONDARY SHOE AND LINING
(14) Remove secondary brake shoe from support plate.
(15) Remove strut and spring (Fig. 31).
(16) Remove parking brake lever retaining clip from the secondary shoe and remove the lever.
(17) Remove primary shoe from support plate.
(18) Disengage parking brake lever from parking brake cable.
INSTALLATION
(1) Clean and inspect individual brake components, refer to Cleaning and Inspection Section.
(2) Lubricate anchor pin and brake shoe contact pads on support plate with high temperature grease or Lubriplate (Fig. 32).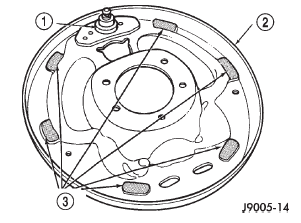 Fig. 32 Shoe Contact Surfaces
1 - ANCHOR PIN
2 - SUPPORT PLATE
3 - SHOE CONTACT SURFACES
(3) Lubricate adjuster screw socket, nut, button and screw thread surfaces with grease or Lubriplate.
(4) Install the parking brake cable to the parking brake lever.
(5) Install parking brake lever to the secondary shoe and install retaining clip.
(6) Install primary shoe on support plate. Secure shoe with new spring retainers and pin.
(7) Install spring on parking brake strut and engage strut in primary.
(8) Install secondary shoe on support plate (Fig.
33). Insert strut in shoe and guide shoe onto anchor pin. Temporarily secure shoe with retaining pin.
(9) Install anchor plate and adjuster cable eyelet on support plate anchor pin.
(10) Install cable guide in secondary shoe and position cable in guide.
(11) Assemble adjuster screw (Fig. 34). Then install and adjuster screw between the brake shoes.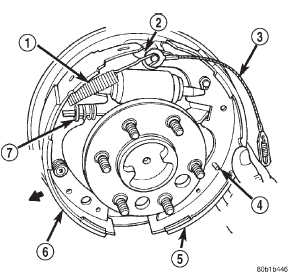 Fig. 33 Brake Shoe Installation
1 - SHOE RETURN SPRING
2 - ANCHOR PLATE
3 - ADJUSTER CABLE
4 - SHOE RETAINING PIN
5 - SECONDARY SHOE AND LINING
6 - PRIMARY SHOE AND LINING
7 - STRUT AND SPRING
CAUTION: Be sure the adjuster screws are installed on the correct brake unit. The adjuster screws are marked L (left) and R (right) for identification.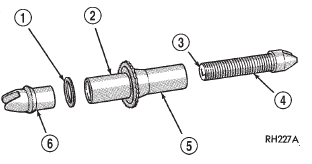 Fig. 34 Adjuster Screw
1 - WASHER
2 - SOCKET
3 - STAMPED LETTER
L-LEFT BRAKE
R-RIGHT BRAKE
4 - SCREW THREADS
5 - NUT
6 - BUTTON
(12) Install adjuster lever and spring and connect adjuster cable to lever.
(13) Install secondary shoe retainers and spring.
(14) Install shoe spring. Connect spring to secondary shoe first. Then to primary shoe.
(15) Verify adjuster operation. Pull adjuster cable upward, cable should lift lever and rotate star wheel. Be sure adjuster lever properly engages star wheel teeth.
(16) Adjust brake shoes to drum with brake gauge.
(17) Install wheel and tire assembly.
More about «Removal and installation»:
Rear brake shoes