Dodge Durango

Service Manual

Cooling System » Diagnosis and testing

Radiator coolant flow check
Equipment Required:
DRB Scan Tool
Volt/Ohm meter
Wiring Diagrams section of this manual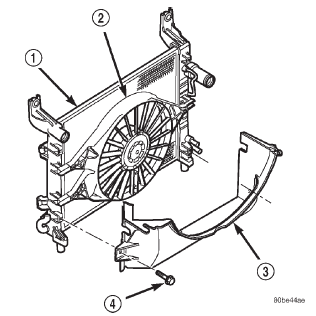 Fig. 19 Electrical Cooling Fan
1 - RADIATOR
2 - ELECTRIC FAN ASSEMBLY
3 - FAN SHROUD (LOWER)
4 - SCREW
Test Procedure:
1) Inspect 10A fuse in junction block and 40A maxi fuse in PDC (Fig. 20).
(2) Remove Cooling Fan Relay from the PDC and make the following checks at the relay connector: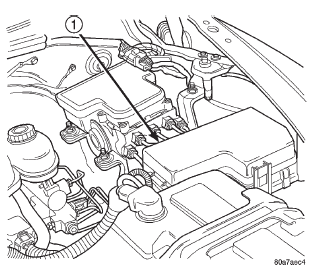 Fig. 20 Power Distribution Center (PDC)
1 - POWER DISTRIBUTION CENTER (PDC)
RADIATOR COOLANT FLOW CHECK
Use the following procedure to determine if coolant is flowing through cooling system.
(1) Idle engine until operating temperature is reached. If upper radiator hose is warm to the touch, thermostat is opening and coolant is flowing to radiator.
WARNING: HOT, PRESSURIZED COOLANT CAN CAUSE INJURY BY SCALDING. USING A RAG TO COVER RADIATOR PRESSURE CAP, OPEN RADIATOR CAP SLOWLY TO FIRST STOP. ALLOW ANY BUILT-UP PRESSURE TO VENT TO THE RESERVE/ OVERFLOW TANK. AFTER PRESSURE BUILD-UP HAS BEEN RELEASED, REMOVE CAP FROM FILLER NECK.
(2) Drain a small amount of coolant from radiator until ends of radiator tubes are visible through filler neck. Idle engine at normal operating temperature. If coolant is flowing past exposed tubes, coolant is circulating.
More about «Diagnosis and testing»:
Radiator coolant flow check