Dodge Durango

Service Manual

Steering » Rack & pinion steering gear » Removal and installation

Rack & pinion steering gear - 4x4
REMOVAL
(1) Raise and support the vehicle.
(2) Remove the splash shield from under the front end to gain access to the gear.
(3) Remove the nuts from the tie rod ends.
(4) Separate tie rod ends from the knuckles with Puller C-3894-A (Fig. 6).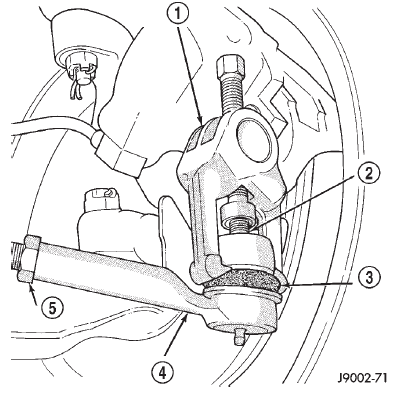 Fig. 6 Tie Rod End Puller
1 - TOOL C-3894-A
2 - BALL STUD
3 - SEAL
4 - TIE-ROD END
5 - LOCK NUT
(5) Remove the power steering lines from the gear.
(6) Remove the lower coupler bolt and slide the coupler off the gear (Fig. 7).
(7) Remove the mounting bolts (Fig. 8) from the gear to the front crossmember. Slide the gear to the right side of the vehicle. Then tilt the left end of the gear down and remove the gear.
INSTALLATION
NOTE: Before installing gear inspect bushings and replace if worn or damaged.
(1) Install gear on front crossmember and tighten mounting bolts to 230 N*m (170 ft. lbs.).
(2) Slide shaft coupler onto gear. Install new bolt and tighten to 49 N*m (36 ft. lbs.).
(3) Clean tie rod end studs and knuckle tapers.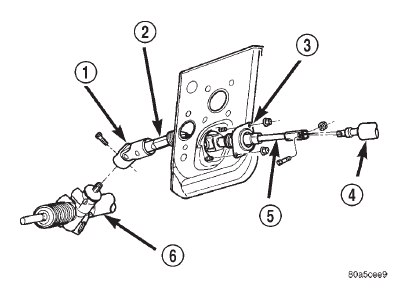 Fig. 7 Gear Coupler
1 - COUPLER
2 - LOWER SHAFT
3 - TOE PLATE
4 - STEERING COLUMN
5 - UPPER SHAFT
6 - RACK AND PINION STEERING GEAR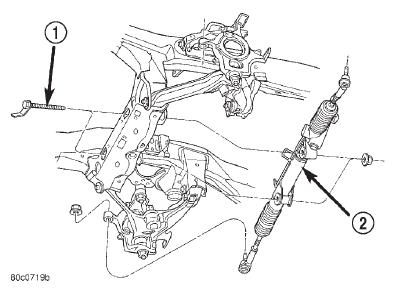 Fig. 8 Rack & Pinion Steering Gear - 4x4
1 - MOUNTING BOLT
2 - RACK AND PINION STEERING GEAR
(4) Install tie rod ends into the steering knuckles and tighten the nuts to 88 N*m (65 ft. lbs.).
(5) Install power steering lines to steering gear.
(6) Install the splash shield.
(7) Remove support and lower vehicle.
(8) Fill system with fluid and perform Power Steering Pump Initial Operation.
(9) Adjust the toe position. Refer to Group 2 Suspension.
More about «Removal and installation»:
Rack & pinion steering gear - 4x4