Dodge Durango

Owners Manual

Starting and operating » Tire rotation recommendations

Premium System
The Tire Pressure Monitor System (TPMS) uses wireless technology with wheel rim-mounted electronic sensors to monitor tire pressure levels. Sensors, mounted to each wheel as part of the valve stem, transmit tire pressure readings to the Receiver Module.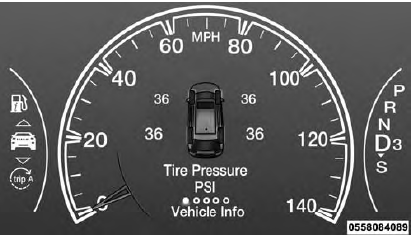 Tire Pressure Monitor Display
NOTE: It is particularly important, for you to regularly check the tire pressure in all of your tires and to maintain the proper pressure.
The Tire Pressure Monitor System (TPMS) consists of the following components:
Receiver Module
Four Tire Pressure Monitoring Sensors
Various Tire Pressure Monitoring System Messages, which display in the Driver Information Display (DID), and a graphic displaying tire pressures
Tire Pressure Monitoring Telltale Light
More about «Tire rotation recommendations»:
Premium System