Dodge Durango

Service Manual

Fuel System » Fuel injection system » Removal and installation

Powertrain control module (pcm)
The PCM is located in the engine compartment (Fig. 29).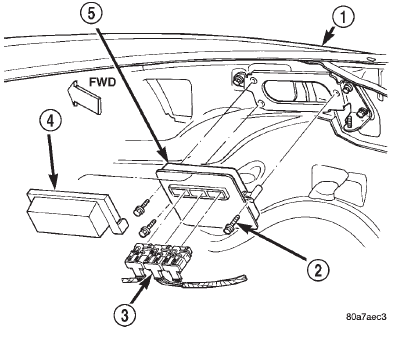 Fig. 29 PCM Location and Mounting
1 - RIGHT FRONT FENDER
2 - PCM MOUNTING BOLTS (3)
3 - 32-WAY CONNECTORS (3)
4 - COVER
5 - POWERTRAIN CONTROL MODULE (PCM)
REMOVAL
To avoid possible voltage spike damage to the PCM, ignition key must be off, and negative battery cable must be disconnected before unplugging PCM connectors.
(1) Disconnect negative battery cable at battery.
(2) Remove cover over electrical connectors. Cover snaps onto PCM.
(3) Carefully unplug the three 32-way connectors from PCM.
(4) Remove three PCM mounting bolts and remove PCM from vehicle.
INSTALLATION
(1) Install PCM and mounting bolts to vehicle.
(2) Tighten bolts to 3-5 N*m (30-40 in. lbs.).
(3) Check pin connectors in the PCM and the three 32-way connectors for corrosion or damage. Repair as necessary.
(4) Install three 32-way connectors.
(5) Install cover over electrical connectors. Cover snaps onto PCM.
(6) Install battery cable.
(7) Use the DRB scan tool to reprogram new PCM with vehicles original Identification Number (VIN) and original vehicle mileage. If this step is not done, a Diagnostic Trouble Code (DTC) may be set.
More about «Removal and installation»:
Powertrain control module (pcm)