Dodge Durango

Owners Manual

Things to know before starting your vehicle » Door locks

Power Door Locks
The power door lock

switches are located on each front door panel. Push the switch to lock or unlock the doors and liftgate.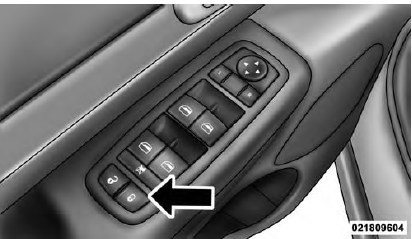 Power Door Lock Switches
If the lock knob is down when the door is closed, the door will lock. Therefore, make sure the key fob is not inside the vehicle before closing the door.
If you push the door lock

switch while the ignition position is in ACC or ON/RUN and the driver or front passenger's door is open, the doors will not lock.
If a rear door is locked, it cannot be opened from inside the vehicle without first unlocking the door. The door may be unlocked manually by raising the lock knob.
Automatic Door Locks - If Equipped
When enabled, the door locks will lock automatically when the vehicle's speed exceeds 15 MPH (24 km/h).
Auto door lock feature is enabled/disabled in the Uconnect Settings sections in the radio. Refer to "Uconnect Settings" located in "Understanding Your Instrument Panel."
Automatic Unlock On Exit Feature - If Equipped
If Auto Unlock is enabled, this feature will unlock all the doors when any door is opened if the vehicle is stopped and in PARK. Refer to "Uconnect Settings" in "Understanding Your Instrument Panel" for further information.
More about «Door locks»:
Power Door Locks