Dodge Durango

Service Manual

Brakes » Base brake system » Adjustments

Park brake cable tensioner
NOTE: Tensioner adjustment is only necessary when the tensioner, or a cable has been replaced or disconnected for service. When adjustment is necessary, perform adjustment only as described in the following procedure. This is necessary to avoid faulty park brake operation.
(1) Raise vehicle.
(2) Back off cable tensioner adjusting nut create slack in cables.
(3) Remove rear wheel/tire assemblies. Then remove brake drums.
(4) Verify brakes are in good condition and operating properly.
(5) Verify park brake cables operate freely and are not binding, or seized.
(6) Check rear brake shoe adjustment with standard brake gauge.
(7) Install drums and verify that drums rotate freely without drag.
(8) Install wheel/tire assemblies.
(9) Lower vehicle enough for access to park brake foot pedal. Then fully apply park brakes.
NOTE: Leave park brakes applied until adjustment is complete.
(10) Raise vehicle again.
(11) Mark tensioner rod 6.35 mm (1/4 in.) from edge of tensioner if no mark is visible (Fig. 60).
NOTE: The rod is marked from the factory.
(12) Tighten adjusting nut on tensioner until the 1/4 inch mark is no longer visible.
CAUTION: Do not loosen, or tighten the tensioner adjusting nut for any reason after completing adjustment.
(13) Lower vehicle until rear wheels are 15-20 cm (6-8 in.) off shop floor.
(14) Release park brake foot pedal and verify that rear wheels rotate freely without drag. Then lower vehicle.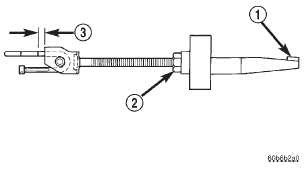 Fig. 60 Adjustment Mark On Cable Tensioner Rod
1 - CABLE CONNECTOR
2 - ADJUSTER NUT
3 - 6.35MM (1/4 IN.)
Specifications
Brake fluid
The brake fluid used in this vehicle must conform to DOT 3 specifications and SAE J1703 standards.
No other type of brake fluid is recommended or approved for usage in the vehicle brake system. Use only Mopar brake fluid or an equivalent from a tightly sealed container.
CAUTION: Never use reclaimed brake fluid or fluid from an container which has been left open. An open container of brake fluid will absorb moisture from the air and contaminate the fluid.
CAUTION: Never use any type of a petroleumbased fluid in the brake hydraulic system. Use of such type fluids will result in seal damage of the vehicle brake hydraulic system causing a failure of the vehicle brake system. Petroleum based fluids would be items such as engine oil, transmission fluid, power steering fluid, etc.
Base brakes
Disc Brake Caliper
Type . . . . . . . . . . . . . . . . . . . . . . . . . . . . . Sliding
Bore . . . . . . . . . . . . . . . . . . . . . . 70 mm (2.75 in.)
Disc Brake Rotor
Type . . . . . . . . . . . . . . . . . . . . . . . . . . Ventilated
Dimensions . . . . . . . 287 x 24 mm (11.3 x 0.9 in.)
Max. Runout . . . . . . . . . . . . . . 0.102 mm (0.004)
Max. Thickness Variation . . . . . . . . . . 0.013 mm (0.0005 in.)
Min. Rotor Thickness . . . . . 22.6 mm (0.8898 in.)
Brake Drum
Dimensions . . . . . . . . 279 x 57 mm (11 x 2.25 in.)
Max. Runout . . . . . . . . . . . . . 0.20 mm (0.008 in.)
Max. Diameter Variation . . . 0.076 mm (0.003 in.)
Brake Booster
Type . . . . . . . . . . . . . . . . . . . Tandem Diaphragm
Master Cylinder
Bore . . . . . . . . . . . . . . . . . . . . . 29 mm (1.125 in.)
Torque chart
DESCRIPTION TORQUE
Brake Booster
Mounting Nuts . . . . . . . . . . 28 N*m (250 in. lbs.)
Master Cylinder
Mounting Nuts . . . . . . . . . . 18 N*m (160 in. lbs.)
Caliper
Mounting Pins . . . . . . . . . . . . 30 N*m (22 ft. lbs.)
Wheel Cylinder
Bolts . . . . . . . . . . . . . . . . . . . 20 N*m (15 ft. lbs.)
Combination Valve
Bolt (RWAL) . . . . . . . . . 20-27 N*m (15-20 ft. lbs.)
Bolt (ABS) . . . . . . . . . . . 10-13 N*m (7-10 ft. lbs.)
Support Plate
Mounting Bolts/Nuts . . . . . . . . 64 N*m (47 ft. lbs)
Brake Line Fittings
Master Cylinder . . . . . . . . . 19 N*m (170 in. lbs.)
Combination Valve . . . . . . . 19 N*m (170 in. lbs.)
Wheel Cylinder . . . . . . . . . . 16 N*m (145 in. lbs.)
Brake Hose
Front Fitting . . . . . . . . . . . . 16 N*m (145 in. lbs.)
Front Bolt . . . . . . . . . . . . . . 28 N*m (250 in. lbs.)
Rear Fitting . . . . . . . . . . . . 19 N*m (170 in. lbs.)
Special tools
Base brakes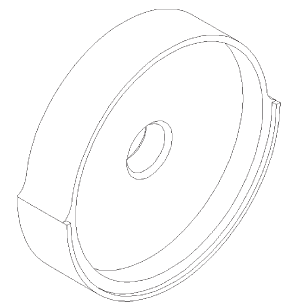 Install Dust Boot 8248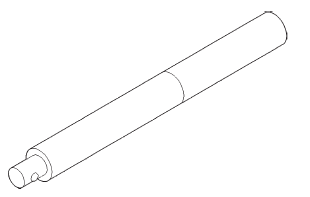 Universal Handle C-4171
More about «Adjustments»:
Park brake cable tensioner