Dodge Durango

Service Manual

Lamps » Lamp bulb service

Overhead console reading lamp bulb
REMOVAL
(1) Using a small flat blade, carefully pry forward edge of reading lamp lens downward from lamp.
(2) Disengage lamp lens from pivots on overhead console.
(3) Rotate bulb holder and pull bulb from lamp.
INSTALLATION
(1) Position bulb in lamp and rotate to secure.
(2) Position lamp lens on overhead console. Ensure contact tab (Fig. 11) on lamp lens is aligned with lamp switch.
(3) Carefully press lamp lens onto pivots.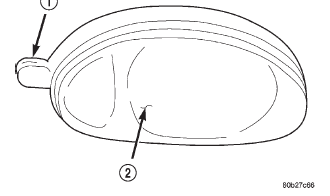 Fig. 11 Reading Lamp Lens
1 - SWITCH CONTACT TAB
2 - READING LAMP LENS
More about «Lamp bulb service»:
Overhead console reading lamp bulb