Dodge Durango

Service Manual

Overhead Console Systems » Description and operation

Overhead console
DESCRIPTION
The overhead console (Fig. 1) for this model includes two front-mounted reading and courtesy lamps, a garage door opener storage bin, a sunglasses storage bin and either a standard paperclip or an optional compass mini-trip computer.
The overhead console is secured with two snap clips at the rear and a single screw at the front to the overhead console mounting bracket. The front of the overhead console mounting bracket is secured to the roof header near the windshield with two screws, and the rear of the bracket is secured with double- faced tape to the inside surface of the roof panel. A single electrical connection joins the overhead console wire harness to the roof wire harness.
Following are general descriptions of the major components used in the overhead console. See the owner's manual in the vehicle glove box for more information on the use and operation of the various overhead console features.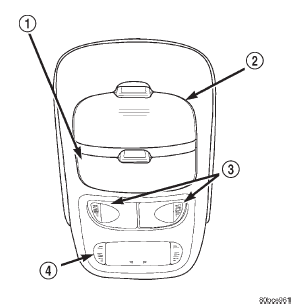 Fig. 1 Overhead Console
1 - SUNGLASSES STORAGE BIN
2 - GARAGE DOOR OPENER STORAGE BIN
3 - READING AND COURTESY LAMPS
4 - PAPERCLIP OR COMPASS MINI-TRIP COMPUTER
More about «Description and operation»:
Overhead console