Dodge Durango

Owners Manual

Understanding the features of your vehicle » Seats

Manual Front Passenger Seat Forward/Rearward Adjustment
Some models may be equipped with a manual front passenger seat. The passenger seat can be adjusted forward or rearward by using a bar located by the front of the seat cushion, near the floor.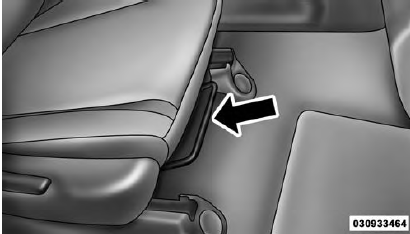 Adjustment Bar
While sitting in the seat, lift up on the bar located under the seat cushion and move the seat forward or rearward.
Release the bar once you have reached the desired position. Then, using body pressure, move forward and rearward on the seat to be sure that the seat adjusters have latched.
WARNING!
Adjusting a seat while driving may be dangerous. Moving a seat while driving could result in loss of control which could cause a collision and serious injury or death.
Seats should be adjusted before fastening the seat belts and while the vehicle is parked. Serious injury or death could result from a poorly adjusted seat belt.
More about «Seats»:
Manual Front Passenger Seat Forward/Rearward Adjustment