Dodge Durango

Service Manual

Vehicle Theft/Security Systems » Diagnosis and testing

Liftgate lock cylinder switch
Refer to Vehicle Theft Security System in the index of this service manual for the location of complete liftgate lock cylinder switch wiring diagrams.
(1) Disconnect the likftgate lock cylinder switch wire harness connector from the liftgate wire harness connector.
(2) Using an ohmmeter, perform the switch resistance checks between the two cavities of the liftgate lock cylinder switch wire harness connector. Actuate the switch by rotating the key in the liftgate lock cylinder to test for the proper resistance values in each of the three switch positions, as shown in the Liftgate Lock Cylinder Switch chart.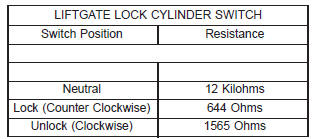 (3) If a liftgate lock cylinder switch fails any of the resistance tests, replace the faulty switch as required.
More about «Diagnosis and testing»:
Liftgate lock cylinder switch