Dodge Durango

Service Manual

Body » Stationary glass » Removal and installation

Liftgate backlite
REMOVAL
Refer to the Windshield paragraph of this section for all warnings and cautions.
(1) Remove liftgate upper trim panel.
(2) Remove CHMSL.
(3) Remove rear window wiper arm, if equipped.
(4) Remove side moldings.
(5) Cut urethane bonding from around liftgate backlite using a suitable sharp cold knife. A pneumatic cutting device can be used if available.
(6) Separate backlite from vehicle.
INSTALLATION
CAUTION: Open a window before installing backlite.
This will avoid pressurizing the passenger compartment.
If a door is slammed before urethane is cured, water leaks can result.
The window opening fence should be cleaned of old urethane bonding material.
(1) Clean inside of backlite with Mopar Glass Cleaner or equivalent and lint-free cloth.
(2) Apply PVC (vinyl) primer 25 mm (1 in.) wide around edge of backlite. Wipe with clean/dry lint-free cloth.
(3) Apply fence primer around edge of fence. Allow at least eighteen minutes drying time.
(4) Install new upper and lower seals on liftgate backlite (Fig. 8).
(5) Apply a 12 mm (0.4 in.) bead of urethane around window opening fence.
Position backlite into window opening (Fig. 9).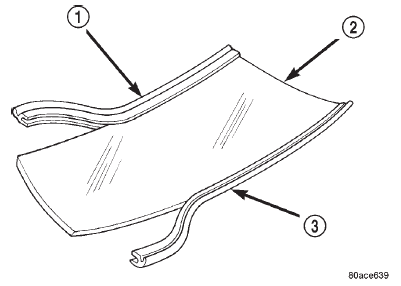 Fig. 8 Liftgate Backlite Seals
1 - UPPER SEAL
2 - LIFTGATE BACKLITE
3 - LOWER SEAL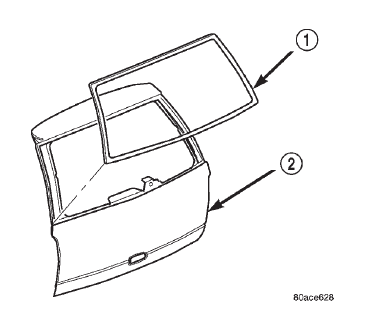 Fig. 9 Liftgate Backlite
1 - BACKLITE
2 - LIFTGATE
More about «Removal and installation»:
Liftgate backlite