Dodge Durango

Owners Manual

Understanding the features of your vehicle » Windshield wipers and washers

Intermittent Wiper System
Use one of the four intermittent wiper settings when weather conditions make a single wiping cycle, with a variable delay between cycles, desirable. At driving speeds above 10 mph (16 km/h), the delay can be regulated from a maximum of approximately 18 seconds between cycles (first detent), to a cycle every one second (fourth detent).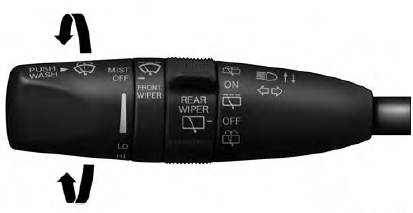 Intermittent Wiper Operation
NOTE: If the vehicle is moving less than 10 mph (16 km/h), delay times will be doubled.
More about «Windshield wipers and washers»:
Intermittent Wiper System