Dodge Durango

Service Manual

Ignition System » Removal and installation

Ignition coil-4.7L engine
REMOVAL
An individual ignition coil is used for each spark plug (Fig. 25). The coil fits into machined holes in the cylinder head. A mounting stud/nut secures each coil to the top of the intake manifold (Fig. 26). The bottom of the coil is equipped with a rubber boot to seal the spark plug to the coil. Inside each rubber boot is a spring. The spring is used for a mechanical contact between the coil and the top of the spark plug. These rubber boots and springs are a permanent part of the coil and are not serviced separately. An o-ring (Fig. 25) is used to seal the coil at the opening into the cylinder head.
(1) Depending on which coil is being removed, the throttle body air intake tube or intake box may need to be removed to gain access to coil.
(2) Disconnect electrical connector (Fig. 26) from coil by pushing downward on release lock on top of connector and pull connector from coil.
(3) Clean area at base of coil with compressed air before removal.
(4) Remove coil mounting nut from mounting stud (Fig. 26).
(5) Carefully pull up coil from cylinder head opening with a slight twisting action.
(6) Remove coil from vehicle.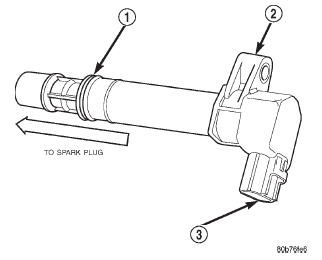 Fig. 25 Ignition Coil-4.7L V-8 Engine
1 - O-RING
2 - IGNITION COIL
3 - ELECTRICAL CONNECTOR
INSTALLATION
(1) Using compressed air, blow out any dirt or contaminants from around top of spark plug.
(2) Check condition of coil o-ring and replace as necessary. To aid in coil installation, apply silicone to coil o-ring.
(3) Position ignition coil into cylinder head opening and push onto spark plug. Do this while guiding coil base over mounting stud.
(4) Install mounting stud nut and tighten to 8 N*m (70 in. lbs.) torque.
(5) Connect electrical connector to coil by snapping into position.
(6) If necessary, install throttle body air tube or box.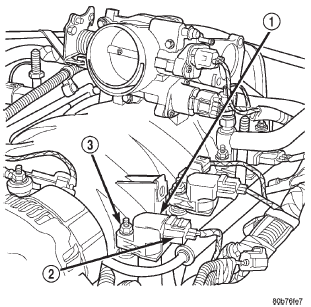 Fig. 26 Ignition Coil Location-4.7L V-8 Engine
1 - IGNITION COIL
2 - COIL ELECTRICAL CONNECTOR
3 - COIL MOUNTING STUD/NUT
More about «Removal and installation»:
Ignition coil-4.7L engine