Dodge Durango

Service Manual

Power Lock Systems » Removal and installation

Horn relay
(1) Disconnect and isolate the battery negative cable.
(2) Remove the fuse access panel from the left end of the instrument panel (Fig. 7).
(3) Refer to the label on the inside of the fuse access panel for horn relay identification and location.
(4) Unplug the horn relay from the Junction Block (JB).
(5) Install the horn relay by aligning the relay terminals with the cavities in the JB and pushing the relay firmly into place.
(6) Install the fuse access panel.
(7) Connect the battery negative cable.
(8) Test the relay operation.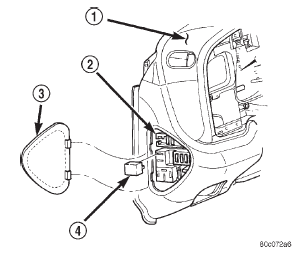 Fig. 7 Horn Relay Remove/Install
1 - INSTRUMENT PANEL
2 - JUNCTION BLOCK
3 - FUSE ACCESS PANEL
4 - HORN RELAY
More about «Removal and installation»:
Horn relay