Dodge Durango

Service Manual

Exhaust System » Removal and installation

Heat shields
REMOVAL
(1) Raise and support the vehicle.
(2) Remove the screws and nuts holding the heat shields to the frame and floor pan (Fig. 12) (Fig. 13) (Fig. 14). When removing muffler heat shield, the muffler front and rear support hangers must be removed first (Fig. 15). Be sure to disconnect both oxygen sensor connectors.
(3) Slide the shield out around the exhaust system.
INSTALLATION
(1) Position the heat shields to the floor pan or the frame and install the screws and nuts.
(2) Tighten the screws/nuts to 7 N*m (60 in. lbs.) torque. Tighten the muffler hangers to 23 N*m (200 in. lbs.) (3) Lower the vehicle.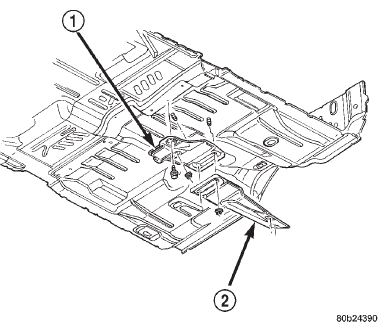 Fig. 12 Front and Rear Floor Pan/Converter Shields
1 - REAR FLOOR PAN/CONVERTER SHIELD
2 - FRONT FLOOR PAN/CONVERTER SHIELD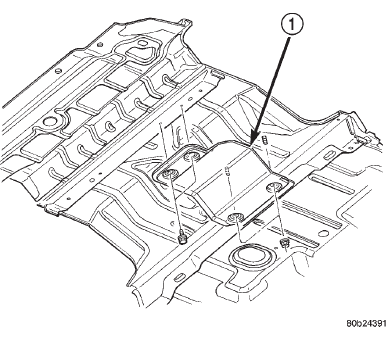 Fig. 13 Rear Compartment/Tailpipe Heat Shield
1 - REAR COMPARTMENT TAILPIPE SHIELD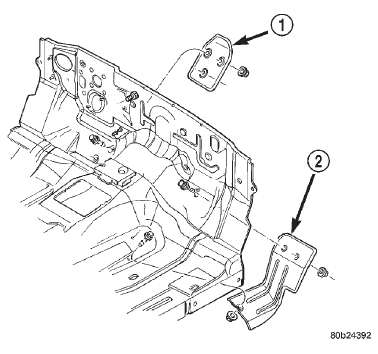 Fig. 14 Left and Right Dash Heat Shield
1 - LEFT DASH HEAT SHIELD
2 - RIGHT DASH HEAT SHIELD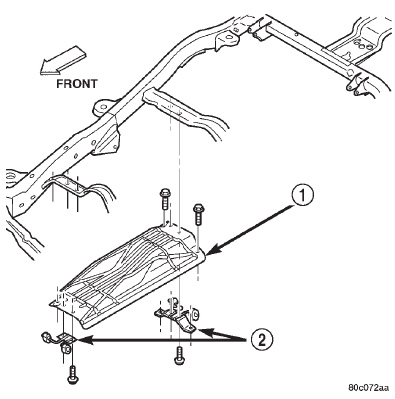 Fig. 15 Muffler Heat Shield
1 - MUFFLER HEAT SHIELD
2 - MUFFLER HANGERS
Specifications
Torque specifications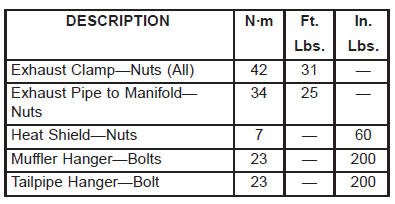 More about «Removal and installation»:
Heat shields