Dodge Durango

Owners Manual

Understanding your instrument panel » Uconnect rear seat entertainment (rse) system - if equipped

Headphones Operation
The headphones receive two separate channels of audio using an infrared transmitter from the video screen.
If no audio is heard after increasing the volume control, verify that the screen is turned on, the channel is not muted and the headphone channel selector switch is on the desired channel. If audio is still not heard, check that fully charged batteries are installed in the headphones.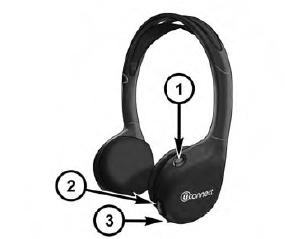 Rear Seat Entertainment Headphones
1 - Power Button
2 - Volume Control
3 - Channel Selection Switch
More about «Uconnect rear seat entertainment (rse) system - if equipped»:
Headphones Operation