Dodge Durango

Service Manual

Power Lock Systems » Removal and installation

Headlamp relay
WARNING: ON VEHICLES EQUIPPED WITH AIRBAGS, REFER TO GROUP 8M - PASSIVE RESTRAINT SYSTEMS BEFORE ATTEMPTING ANY STEERING WHEEL, STEERING COLUMN, OR INSTRUMENT PANEL COMPONENT DIAGNOSIS OR SERVICE. FAILURE TO TAKE THE PROPER PRECAUTIONS COULD RESULT IN ACCIDENTAL AIRBAG DEPLOYMENT AND POSSIBLE PERSONAL INJURY.
(1) Disconnect and isolate the battery negative cable.
(2) Remove the cover from the Power Distribution Center (PDC) (Fig. 6).
(3) Refer to the label on the PDC for headlamp relay identification and location.
(4) Unplug the headlamp relay from the PDC.
(5) Install the headlamp relay by aligning the relay terminals with the cavities in the PDC and pushing the relay firmly into place.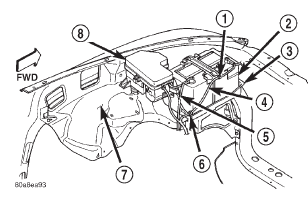 Fig. 6 Power Distribution Center
1 - CLIP
2 - BATTERY
3 - TRAY
4 - NEGATIVE CABLE
5 - POSITIVE CABLE
6 - CLIP
7 - FENDER INNER SHIELD
8 - POWER DISTRIBUTION CENTER
(6) Install the PDC cover.
(7) Connect the battery negative cable.
(8) Test the relay operation.
More about «Removal and installation»:
Headlamp relay