Dodge Durango

Service Manual

Transmission and Transfer Case » Removal and installation

Gearshift cable
REMOVAL
(1) Shift transmission into Park.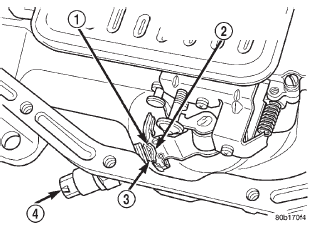 Fig. 79 Park/Neutral Position Switch
1 - NEUTRAL CONTACT
2 - MANUAL LEVER AND SWITCH PLUNGER IN REVERSE POSITION
3 - PARK CONTACT
4 - SWITCH
(2) Remove nuts retaining the shift cable housing to the dash panel (Fig. 80).
(3) Disconnect cable at lower column lever and feed cable through dash panel opening to underside of vehicle (Fig. 81).
(4) Raise vehicle.
(5) Disengage cable eyelet at transmission shift lever and pull cable adjuster out of mounting bracket (Fig. 82). Remove old cable from vehicle.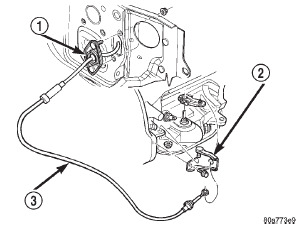 Fig. 80 Cable Mounting
1 - CABLE MOUNTING
2 - CABLE BRACKET AT TRANS.
3 - GEARSHIFT CABLE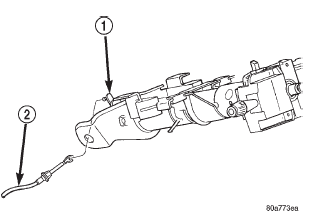 Fig. 81 Cable at Gearshift Lever
1 - GEARSHIFT LEVER
2 - GEARSHIFT CABLE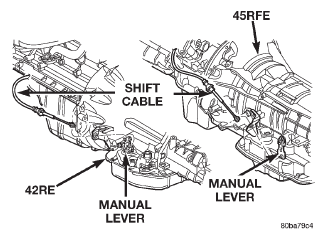 Fig. 82 Shift Cable at the Transmission
INSTALLATION
(1) Snap the cable into the transmission bracket so the retaining ears are engaged and connect cable end fitting onto the manual control lever ball stud.
(2) Lower vehicle.
(3) Route cable through hole in dash panel. Seat cable bracket to dash panel. Install retaining nuts to cable housing bracket studs inside the vehicle at the dash panel.
(4) Place the auto transmission manual shift control lever in "Park" detent (rearmost) position and rotate prop shaft to ensure transmission is in park.
(5) Connect shift cable to shifter lever by snapping cable retaining ears into shifter bracket and press cable end fitting into lever.
(6) Check for proper operation of Park/Neutral switch.
(7) If the gearshift cable is out of adjustment, refer to Adjustments section.
More about «Removal and installation»:
Gearshift cable