Dodge Durango

Service Manual

Brakes » Four wheel antilock brakes » Removal and installation

Front wheel speed sensor - 4x2
CAUTION: Special bolts are used to attach the front sensor. The bolts have a special shoulder, thread length and surface treatment. If the original bolts must be replaced, use only factory replacement part. Do not use substitute bolts under any circumstances.
REMOVAL
(1) Raise and support vehicle.
(2) Remove bolt attaching sensor to the steering knuckle (Fig. 10).
(3) Remove clamps securing sensor wire to control arm and inner fender panel.
(4) In engine compartment, disconnect sensor wire from harness and remove sensor.
INSTALLATION
(1) Position sensor in the knuckle and install sensor attaching bolts. Tighten bolts to 21 N*m (190 in.
lbs.).
(2) Secure sensor wire retaining clamps to control arm and fender panel.
(3) In engine compartment, connect sensor wire to harness connector. Make sure wire is routed away from hot or rotating underhood components.
(4) Turn steering wheel back and forth to verify that wire is clear of steering and suspension components.
(5) Remove supports and lower vehicle.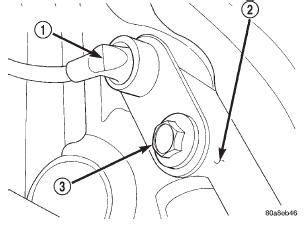 Fig. 10 Front Wheel Speed Sensor - 4x2
1 - WHEEL SPEED SENSOR
2 - KNUCKLE
3 - MOUNTING BOLT
More about «Removal and installation»:
Front wheel speed sensor - 4x2