Dodge Durango

Service Manual

Lamps » Lamp bulb service

Fog lamp bulb
REMOVAL
(1) Disengage fog lamp harness connector.
(2) Rotate bulb socket a 1/4 turn counterclockwise and pull from lamp to separate (Fig. 2).
(3) Grasp bulb and pull from lamp.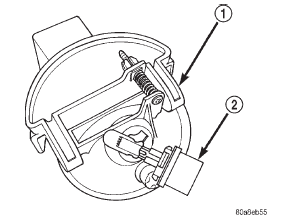 Fig. 2 Fog Lamp Bulb
1 - FOG LAMP
2 - FOG LAMP BULB
INSTALLATION
CAUTION: Do not touch the bulb glass with fingers or other oily surfaces. Reduced bulb life will result.
(1) Position bulb in lamp, push to seat and rotate a 1/4 turn clockwise.
(2) Connect fog lamp harness connector.
More about «Lamp bulb service»:
Fog lamp bulb