Dodge Durango

Service Manual

Engine » Description and operation

Engine lubrication system
DESCRIPTION
The lubrication system (Fig. 2) is a full flow filtration pressure feed type.
OPERATION
Oil from the oil pan is pumped by a gerotor type oil pump directly mounted to the crankshaft nose. Oil pressure is controlled by a relief valve mounted inside the oil pump housing. For lubrication flow refer to (Fig. 2).
The camshaft exhaust valve lobes and rocker arms are lubricated through a small hole in the rocker arm; oil flows through the lash adjuster then through the rocker arm and onto the camshaft lobe. Due to the orentation of the rocker arm, the camshaft intake lobes are not lubed in the same manner as the exhaust lobes. The intake lobes are lubed through internal passages in the camshaft. Oil flows through a bore in the number 3 camshaft bearing bore, and as the camshaft turns, a hole in the camshaft aligns with the hole in the camshaft bore allowing engine oil to enter the camshaft tube. The oil then exits through 1.6mm (0.063 in.) holes drilled into the intake lobes, lubricating the lobes and the rocker arms.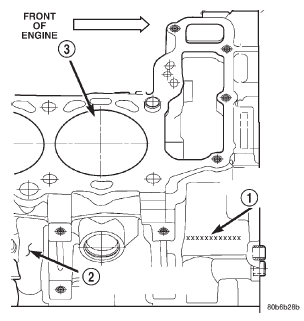 Fig. 1 Engine Identification Location.
1 - VEHICLE VIN NUMBER LOCATION
2 - CYLINDER BLOCK RIGHT HAND SIDE
3 - CYLINDER BORE #2
ENGINE LUBRICATION FLOW CHART-BLOCK: TABLE 1
FROM
TO
Oil Pickup Tube
Oil Pump
Oil Pump
Oil Filter
Oil Filter
Block Main Oil Gallery
Block Main Oil Gallery
1. Crankshaft Main Journal

2. Left Cylinder Head*

3. Right Cylinder Head*

Crankshaft Main Journals
Crankshaft Rod Journals
Crankshaft Number One Main Journal
1.Front Timing Chain Idler Shaft

2. Both Secondary Chain Tensioners

Left Cylinder Head
See Table 2
Right Cylinder Head
See Table 2
* The cylinder head gaskets have an oil restricter to control oil flow to the cylinder heads.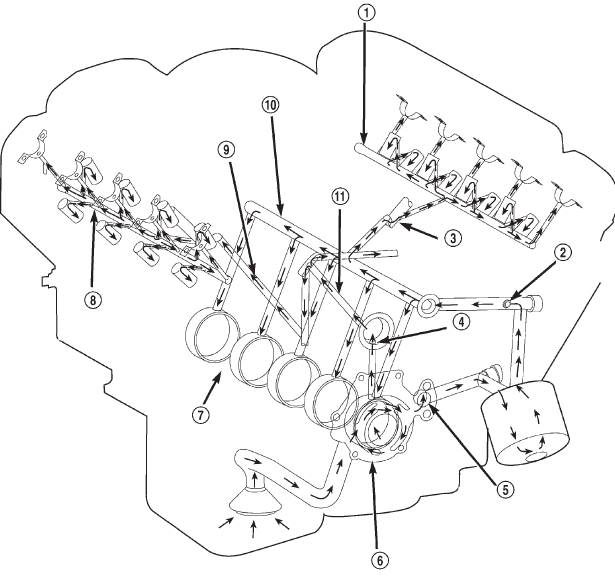 Fig. 2 Engine Oil Lubrication System
1 - LEFT CYLINDER HEAD OIL GALLERY
2 - OIL PRESSURE SENSOR LOCATION
3 - TO LEFT CYLINDER HEAD
4 - OIL FEED TO IDLER SHAFT
5 - OIL PUMP OUTLET TO BLOCK
6 - OIL PUMP
7 - TO CRANKSHAFT MAIN JOURNALS
8 - RIGHT CYLINDER HEAD OIL GALLERY
9 - TO RIGHT CYLINDER HEAD
10 - CYLINDER BLOCK MAIN GALLERY
11 - OIL FEED TO BOTH SECONDARY TENSIONERS
ENGINE LUBRICATION FLOW CHART-CYLINDER HEADS: TABLE 2
FROM
TO
Cylinder Head Oil Port (in bolt hole)
Diagonal Cross Drilling to Main Oil Gallery
Main Oil Gallery (drilled through head from rear to front)
1. Base of Camshaft Towers

2. Lash Adjuster Towers

Base of Camshaft Towers
Vertical Drilling Through Tower to Camshaft Bearings**
Lash Adjuster Towers
Diagonal Drillings to Hydraulic Lash Adjuster Pockets
** The number three camshaft bearing journal feeds oil into the hollow camshaft tubes. Oil is routed to the intake lobes, which have oil passages drilled into them to lubricate the rocker arms.
More about «Description and operation»:
Engine lubrication system