Dodge Durango

Service Manual

Engine » Removal and installation

Engine core plugs
REMOVAL
(1) Drain the cooling system. Refer to Group 7, Cooling System for procedure.
(2) Using a blunt tool such as a drift or a screw driver and a hammer, strike the bottom edge of the cup plug (Fig. 135).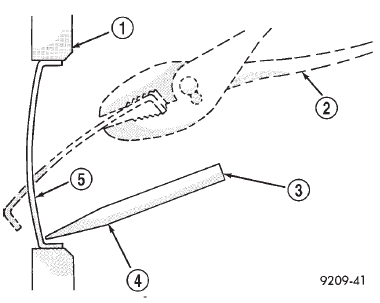 Fig. 135 Engine Core Plug Removal
1 - CYLINDER BLOCK
2 - REMOVE PLUG WITH PLIERS
3 - STRIKE HERE WITH HAMMER
4 - DRIFT PUNCH
5 - CUP PLUG
(3) Using a suitable pair of pliers, grasp the core plug and remove.
INSTALLATION
NOTE: Thoroughly clean core plug bore, remove all of the old sealer.
(1) Coat the edges of the engine core plug and the core plug bore with Mopar Gasket Maker, or equivalent.
NOTE: It is not necessary to wait for the sealant to cure on the core plugs. The cooling system can be filled and the vehicle returned to service immediately.
(2) Using proper plug driver, drive core plug into the core plug bore. The sharp edge of the core plug should be at least 0.50 mm (0.020 in.) inside the lead in chamfer.
(3) Refill the cooling system.
More about «Removal and installation»:
Engine core plugs