Dodge Durango

Service Manual

Body » Body component service » Adjustments

Door latch adjustment
(1) Locate access hole (Fig. 108).
(2) Insert a 5/32-inch hex-wrench through hole and into adjustment screw. Loosen screw.
(3) Operate outside handle button several times to release any restriction because of mis-alignment.
(4) Tighten adjustment screw to 3 N*m (30 in-lbs) torque.
(5) Test handle button and lock cylinder for proper operation.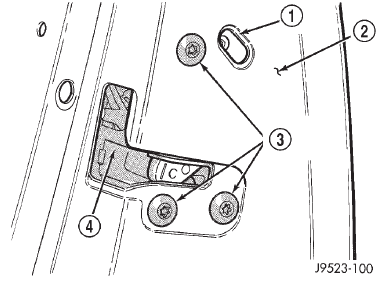 Fig. 108 Door Latch Adjustment
1 - ACCESS HOLE
2 - DOOR
3 - LATCH MOUNTING BOLTS
4 - LATCH
More about «Adjustments»:
Door latch adjustment