Dodge Durango

Service Manual

Brakes » Base brake system » Disassembly and assembly

Disc brake caliper
DISASSEMBLY
(1) Drain old brake fluid out of caliper into drain pan.
(2) Remove piston dust boot (Fig. 45). Use screwdriver to push boot out of groove.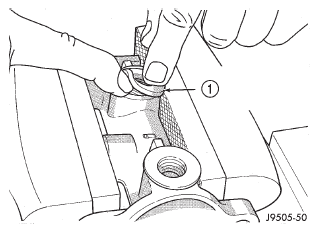 Fig. 44 Grommet Installation
1 - WORK NEW GROMMETS INTO PLACE USING FINGER PRESSURE ONLY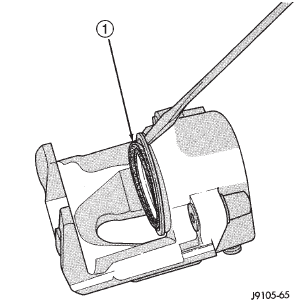 Fig. 45 Piston Dust Boot
1 - PISTON BOOT DUST
(3) Pad outboard shoe side of caliper interior with a minimum 1 inch thickness of shop towels (Fig. 46).
Towels will prevent piston damage when piston comes out of the caliper bore.
(4) Remove caliper piston with short bursts of compressed air. Apply air pressure through fluid inlet port of caliper (Fig. 46).
CAUTION: Do not blow the piston out of the bore with sustained air pressure. This could result in a cracked piston. Use only enough air pressure to ease the piston out.
WARNING: NEVER ATTEMPT TO CATCH THE PISTON AS IT LEAVES THE BORE. THIS MAY RESULT IN PERSONAL INJURY.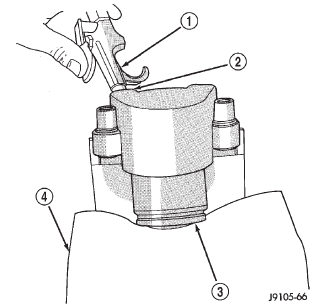 Fig. 46 Caliper Piston
1 - AIR GUN NOZZLE
2 - FLUID INLET PORT
3 - CALIPER PISTON
4 - PADDING MATERIAL (TO PROTECT PISTON)
5) Remove caliper piston seal with wood pencil or plastic tool (Fig. 47). Do not use metal tools as they will scratch piston bore.
(6) Remove caliper slide pin bushings and boots.
(7) Remove caliper bleed screw and cap.
ASSEMBLY
(1) Lubricate slide pin boots and bushings with GE, or Dow silicone grease. Then install the boots and bushings in caliper.
(2) Coat caliper piston bore, piston and new piston seal with clean brake fluid.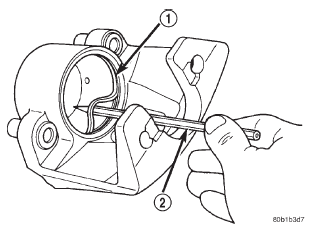 Fig. 47 Caliper Piston Seal
1 - PISTON SEAL
2 - WOOD PENCIL
(3) Install new piston seal in caliper bore. Press seal into groove with finger (Fig. 48). Lubricate seal and caliper bore with additional, fresh brake fluid after seal installation.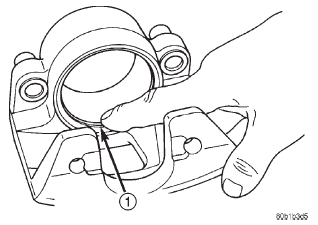 Fig. 48 Caliper Piston Seal
1 - CALIPER PISTON SEAL (PRESS SEAL INTO PLACE WITH FINGER)
(4) Apply light coat of GE 661, Dow 111 or similar silicone grease to edge and groove of piston and dust seal. Grease acts as corrosion protection for these areas.
(5) Slide new seal boot over piston until boot lip seats in piston groove (Fig. 49).
(6) Push retainer part of boot forward until folds in boot snap into place (Fig. 50).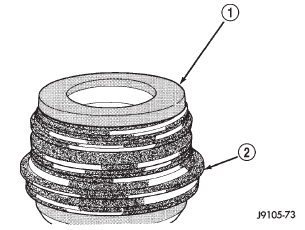 Fig. 49 Sliding Boot Onto Piston
1 - CALIPER PISTON
2 - SLIDE DUST BOOT DOWNWARD OVER PISTON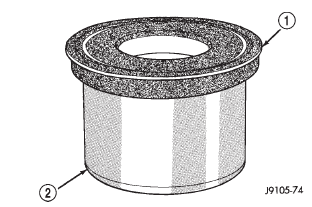 Fig. 50 Snapping Boot Folds Into Place
1 - FOLD DUST BOOT UPWARD UNTIL IT "SNAPS" INTO PLACE
2 - CALIPER PISTON
(7) Start caliper piston in bore with a twisting motion. When piston is started in seal, push piston only part way into bore (Fig. 51). Maintain uniform pressure on piston to avoid cocking it in bore.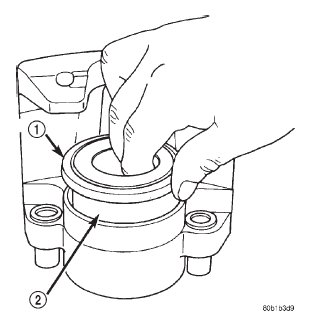 Fig. 51 Installing Caliper Piston And Boot
1 - DUST BOOT
2 - CALIPER PISTON
(8) Press caliper piston to bottom of bore.
(9) Seat piston dust boot with Installer 8248 and Handle C-4171 (Fig. 52).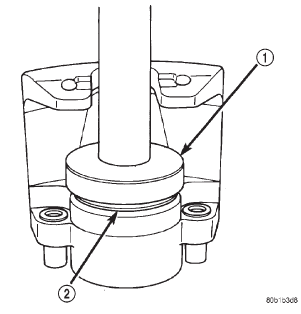 Fig. 52 Seating Piston Dust Boot
1 - SEAL INSTALLER
2 - DUST BOOT
(10) Install caliper bleed screw and bleed screw cap if removed (Fig. 53).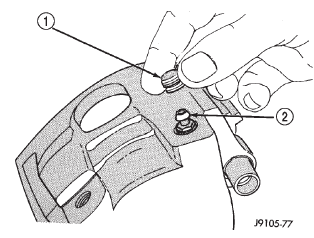 Fig. 53 Installing Caliper Bleed Screw And Cap
1 - BLEED SCREW CAP
2 - BLEED SCREW
More about «Disassembly and assembly»:
Disc brake caliper