Dodge Durango

Service Manual

Tires and Wheels » Wheels

Description and operation
Wheel
DESCRIPTION
The rim size is on the vehicle safety certification label located on the drivers door shut face. The size of the rim is determined by the drivetrain package.
Original equipment wheels/rims are designed for operation up to the specified maximum vehicle capacity.
All models use stamped steel, cast aluminum or forged aluminum wheels. Every wheel has raised sections between the rim flanges and rim drop well called safety humps (Fig. 1).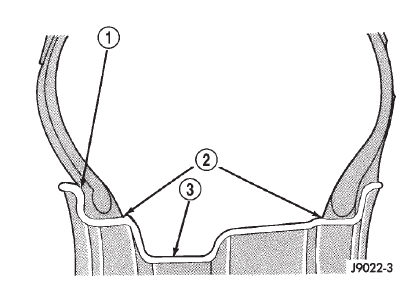 Fig. 1 Safety Rim
1 - FLANGE
2 - RIDGE
3 - WELL
Initial inflation of the tire forces the bead over these raised sections. In case of rapid loss of air pressurepressure, the raised sections help hold the tire on the wheel.
The wheel studs and nuts are designed for specific applications. All aluminum and some steel wheels have wheel stud nuts with an enlarged nose. This enlarged nose is necessary to ensure proper retention of the wheels. Do not use replacement studs or nuts with a different design or lesser quality.
More about «Wheels»:
Description and operation