Dodge Durango

Service Manual

Steering » Rack & pinion steering gear

Description and operation
Rack & pinion steering gear
DESCRIPTION
A rack and pinion steering gears (Fig. 1) is made up of two main components, the pinon shaft and the rack. The gear cannot be adjusted or internally serviced.
If a malfunction or a fluid leak occurs, the gear must be replaced as an assembly. If a boot seal becomes damaged, the steering gear must be removed to replace the boot seal.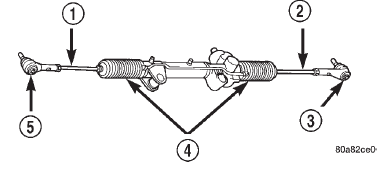 Fig. 1 Rack & Pinion Steering Gear
1 - TIE ROD
2 - TIE ROD
3 - TIE ROD END
4 - BOOTS
5 - TIE ROD END
OPERATION
The steering column shaft is attached to the gear pinion. The rotation of the pinion moves the gear rack from side-to-side. This lateral action of the rack pushes and pulls the tie rods to change the direction of the front wheels.
More about «Rack & pinion steering gear»:
Description and operation