Dodge Durango

Service Manual

Brakes » Four wheel antilock brakes » Removal and installation

Controller antilock brakes
NOTE: If the CAB needs to be replaced, the rear axle type and tire revolutions per mile must be programed into the new CAB. For axle type refer to Group 3 Differential and Driveline. For tire revolutions per mile refer to Group 22 Tire and Wheels. To program the CAB refer to the Chassis Diagnostic Manual.
REMOVAL
(1) Disconnect battery negative cable.
(2) Push the harness connector locks to release the locks, (Fig. 5) then remove the connectors from the CAB.
(3) Disconnect the pump motor connector (Fig. 6).
(4) Remove screws attaching CAB to the HCU (Fig. 7).
(5) Remove the CAB.
INSTALLATION
(1) Place the CAB onto the HCU.
NOTE: Insure the CAB seal is in position before installation.
(2) Install the mounting screws and tighten to 4-4.7 N*m (36-42 in. lbs.).
(3) Connect the pump motor harness.
(4) Connect the harnesses to the CAB and lock the connectors.
(5) Connect battery.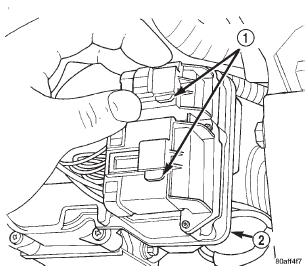 Fig. 5 Harness Connector Locks
1 - CONNECTOR LOCK
2 - CAB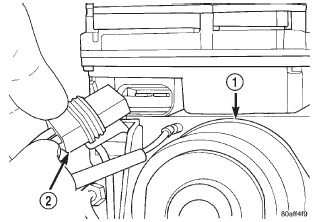 Fig. 6 Pump Motor Connector
1 - PUMP MOTOR
2 - PUMP CONNECTOR
More about «Removal and installation»:
Controller antilock brakes