Dodge Durango

Service Manual

Differential and Driveline » Propeller shafts » Description and operation

Center bearing
DESCRIPTION
Vehicles equipped with a two-piece propeller shaft uses a rubber insulated center bearing. The bearing is used to support the shafts where they are joined together.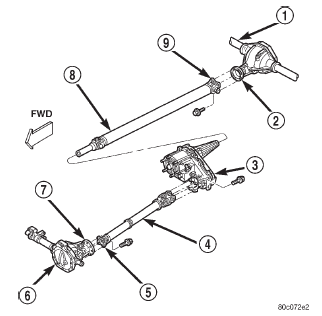 Fig. 2 Front Propeller Shaft
1 - REAR AXLE
2 - COMPANION FLANGE
3 - TRANSFER CASE
4 - FRONT PROPELLER SHAFT
5 - COMPANION YOKE
6 - FRONT AXLE
7 - COMPANION FLANGE
8 - REAR PROPELLER SHAFT
9 - COMPANION YOKE
OPERATION
The propeller shaft center bearing serves to divide the required propeller shaft length into two smaller shafts, which has several inherent advantages. Having two short propeller shafts instead of one long shaft decreases the chance of unwanted noise and vibrations. The shorter shafts are easier to balance and serve to increase ground clearance while maintaining acceptable driveline angles.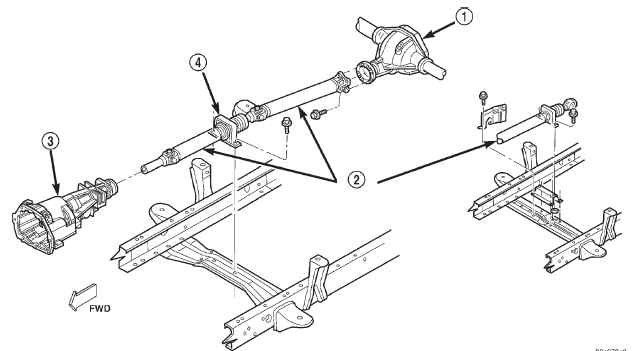 Fig. 3 Rear Propeller Shaft with Center Bearing
1 - REAR AXLE
2 - REAR PROPELLER SHAFT
3 - TRANSMISSION EXTENSION HOUSING
4 - CENTER BEARING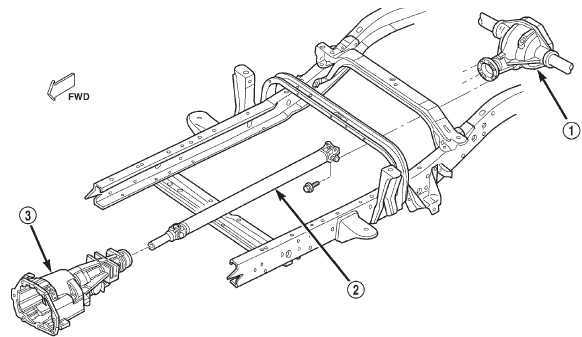 Fig. 4 Rear Propeller Shaft
1 - REAR AXLE
2 - REAR PROPELLER SHAFT
3 - TRANSMISSION EXTENSION HOUSING
More about «Description and operation»:
Center bearing