Dodge Durango

Service Manual

Exhaust System » Description and operation

Catalytic converter
DESCRIPTION
California emissions vehicles incorporate mini catalytic converters into the exhaust system. The pipes and catalytic converters are made of stainless steel designed to operate at extremely high temperatures (Fig. 2).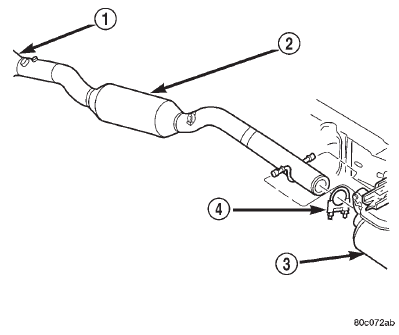 Fig. 2 Catalytic Converter-Typical
1 - EXHAUST PIPE
2 - CONVERTER
3 - MUFFLER
4 - CLAMP
OPERATION
The catalytic converter captures and burns any unburned fuel mixture exiting the combustion chambers during the exhaust stroke of the engine. This process aids in reducing emissions output.
Exhaust pipe
DESCRIPTION
The exhaust pipe(s) is a one piece design encompassing the exhaust pipe(s) and the catalytic converter( s). Neither the exhaust pipe(s) or the catalytic converter(s) is serviceable separately (Fig. 3).
More about «Description and operation»:
Catalytic converter