Dodge Durango

Service Manual

Differential and Driveline » Front axle driveshafts » Cleaning and inspection

C/v joint boots
Look for lubricant around the exterior of a boot.
When a C/V drive shaft is removed from the vehicle for service, the boot should be properly cleaned.
Inspect for cracks, tears and scuffed areas on the surfaces.
If any of these conditions exist, boot replacement is recommended.
SPECIFICATIONS
TORQUE
DESCRIPTION TORQUE
Bolts, Axle Flange . . . . . . . . . . . 90 N*m (65 ft. lbs.)
Nut, Axle . . . . . . . . . . . . . . . . 244 N*m (180 ft. lbs.)
Special tools
C/v joint driveshaft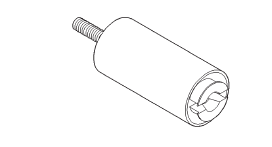 Tool Set-L-4518

Remover/Installer-C-4124
More about «Cleaning and inspection»:
C/v joint boots