Dodge Durango

Service Manual

Differential and Driveline » Front axle driveshafts » Cleaning and inspection

C/v joint
Inspect the lubricant for contamination. Inspect the C/V joint components for defects according to the following instructions.
(1) Clean all the components with an appropriate solvent and dry them with compressed air.
(2) Inspect the ball raceways in the housing for excessive wear and scoring.
(3) Examine the stub shaft splines and threads for damage.
(4) Inspect the balls for pitting, cracks, scoring and excessive wear. A dull exterior surface is normal.
(5) Inspect the bearing cage for wear, grooves, ripples, cracks and chipping.
(6) Inspect the bearing hub (Fig. 26) for excessive wear and scoring on ball raceways.
Polished contact surface areas on the raceways and on the bearing cage spheres are normal.
If the joints cause a noise or a vibration, replace them.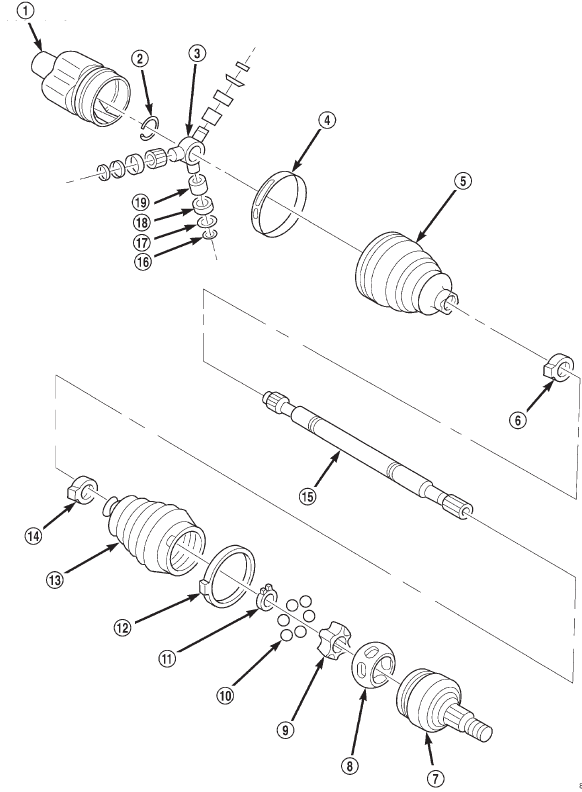 Fig. 26 Drive Shaft Components
1 - RETAINER & HOUSING ASM
2 - C-CLIP
3 - TRIPOD JOINT SPIDER
4 - SEAL RETAINING CLAMP
5 - INNER BOOT
6 - SEAL RETAINING CLAMP
7 - C/V JOINT OUTER RACE
8 - C/V JOINT CAGE
9 - C/V JOINT INNER RACE
10 - CHROME ALLOY BALL
11 - RACE RETAINING RING
12 - SEAL RETAINING CLAMP
13 - DRIVE AXLE OUTBOARD SEAL
14 - SEAL RETAINING CLAMP
15 - AXLE SHAFT
16 - RETAINING RING
17 - BALL & ROLLER RETAINER
18 - TRIPOD JOINT BALL
19 - NEEDLE ROLLER
More about «Cleaning and inspection»:
C/v joint