Dodge Durango

Service Manual

Brakes » Base brake system » Removal and installation

Brake pedal
REMOVAL
(1) Remove stop lamp switch.
(2) Remove clip securing booster push rod to brake pedal (Fig. 16).
(3) Remove pedal pivot pin C-clip and slide pin out of support bracket and pedal.
(4) Remove pedal and bushings.
INSTALLATION
(1) Replace bushings if worn or damaged.
(2) Lubricate pedal bushings and pivot pin with Mopar multi mileage grease, Lubriplate, or a silicone grease.
(3) Install bushings in pedal and position pedal in support.
(4) Insert pivot pin through support and pedal bushings and install C-clip.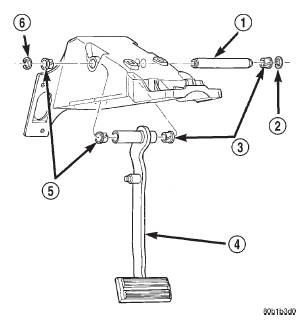 Fig. 16 Brake Pedal Mounting
1 - PIVOT PIN
2 - CLIP
3 - BUSHINGS
4 - BRAKE PEDAL
5 - BUSHINGS
6 - CLIP
(5) Install booster push rod on brake pedal and install push rod retainer clip.
(6) Install stop lamp switch.
More about «Removal and installation»:
Brake pedal