Dodge Durango

Service Manual

Cooling System » Removal and installation

Automatic belt tensioner-5.2L/5.9L engine
REMOVAL
(1) Remove accessory drive belt.
(2) Disconnect wiring and secondary cable from ignition coil.
(3) Remove two mounting bolts and ignition coil from engine (Fig. 61).
(4) Remove mounting bolt and tensioner assembly from engine (Fig. 61).
WARNING: BECAUSE OF HIGH SPRING PRESSURE, DO NOT ATTEMPT TO DISASSEMBLE AUTOMATIC TENSIONER. UNIT IS SERVICED AS AN ASSEMBLY (EXCEPT FOR PULLEY).
(5) Remove pulley bolt. Remove pulley from tensioner.
INSTALLATION
(1) Install pulley and pulley bolt to tensioner.
Tighten bolt to 61 N*m (45 ft. lbs.).
(2) Position tensioner assembly and install mounting screw tighten screw to 67 N*m (50 ft. lbs.).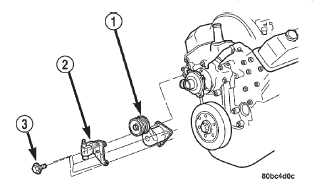 Fig. 61 Automatic Belt Tensioner Removal/ Installation 5.2L/5.9L Engines
1 - AUTOMATIC TENSIONER
2 - COIL AND BRACKET
3 - SCREW AND WASHER
(3) Connect all wiring to ignition coil.
(4) Position coil to tensioner assembly, install two mounting screws. Tighten to 11 N*m (100 in. lbs.) (Fig. 61).
CAUTION: To prevent damage to coil case, coil mounting bolts must be torqued.
(5) Install accessory drive belt.
More about «Removal and installation»:
Automatic belt tensioner-5.2L/5.9L engine