Dodge Durango

Service Manual

Brakes » Four wheel antilock brakes » Description and operation

Abs warning lamp
DESCRIPTION
The amber ABS warning lamp and red warning lamp are located in the instrument cluster. The amber ABS warning lamp illuminates at start-up to perform a self check. The lamp goes out when the self check program determines the system is operating normal. The red brake warning lamp is used to alert the driver of a hydraulic fault or that the parking brake is applied.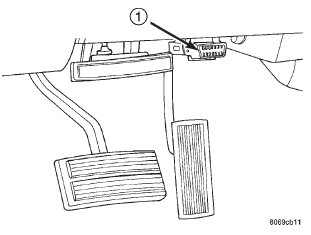 Fig. 4 Data Link Connector - Typical
1 - 16-WAY DATA LINK CONNECTOR
OPERATION
If an ABS component exhibits a fault the CAB will illuminate the ABS warning lamp and register a trouble code in the microprocessor. The lamp is controlled by the CAB. The CAB controls the lamp sending a message to the instrument cluster.
If red warning lamp is illuminate with the amber warning lamp, this may indicate a electronic brake distribution fault.
The red warning lamp will illuminate if an ABS component exhibits a fault and the amber lamp is burned out.
More about «Description and operation»:
Abs warning lamp